Home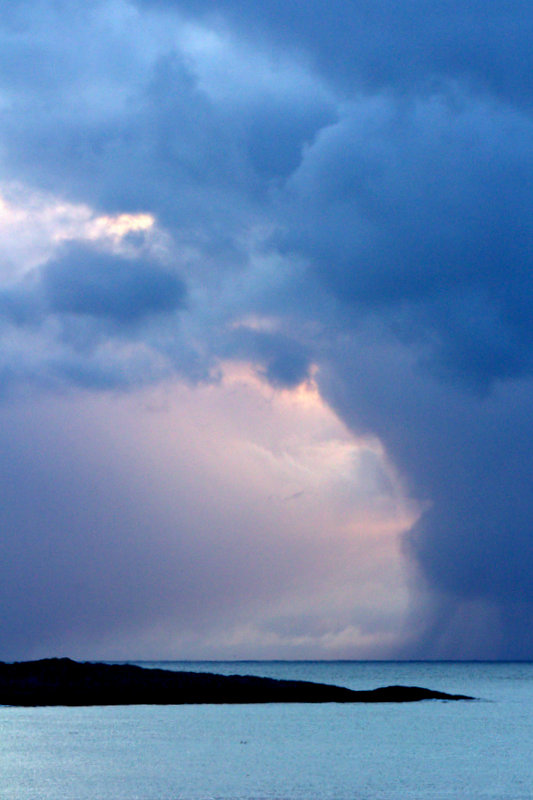 Before I let Bizou out of the door, I check if there are any cars on the parking place in front of the lighthouse. No one there and I feel my body relax. I open the door and take a step outside. It's early in the morning, the air is slightly damp against my face. I look at the endless sea, enjoying the many, soft waves. I hear the sounds of the birds, so full of life. I take a deep, deep breath and smell the clean air of the sea. Ohhh, that smell of the sea.... I take another breath, taking in more of that fresh, slightly salty smell. How I wish I could box that smell and take it home with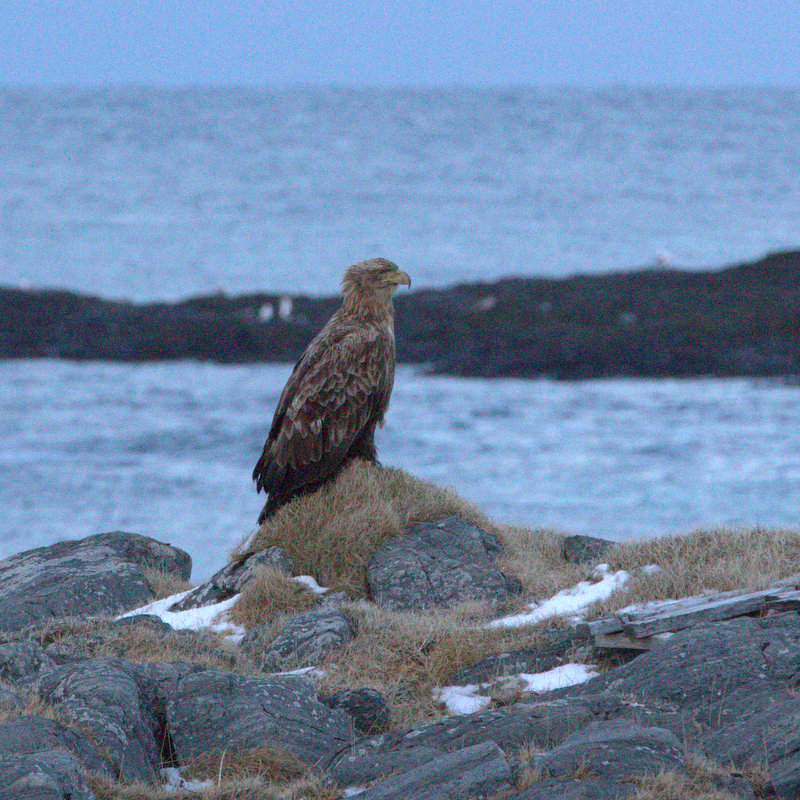 me. I let my body absorb it all, let my cells resonate with it. I feel my body responding and my energy goes up: Invigorating, cleansing, healing, expending ..., I feel such a deep love and joy. This is my morning meditation. These moments in the early morning when I am all alone with the sea, the birds, the lighthouse and Bizou of course, these are the bests. And I have to be honest: no cold, tearing wind to blow me of my feet !
These moments alone are getting precious. Next week, the first employees who will be working here for the summer, are arriving. They will be staying in the house where I am living. In this month there have already been many guests. In the lighthouse or with van's (mobile homes). So it's clear that my retreat is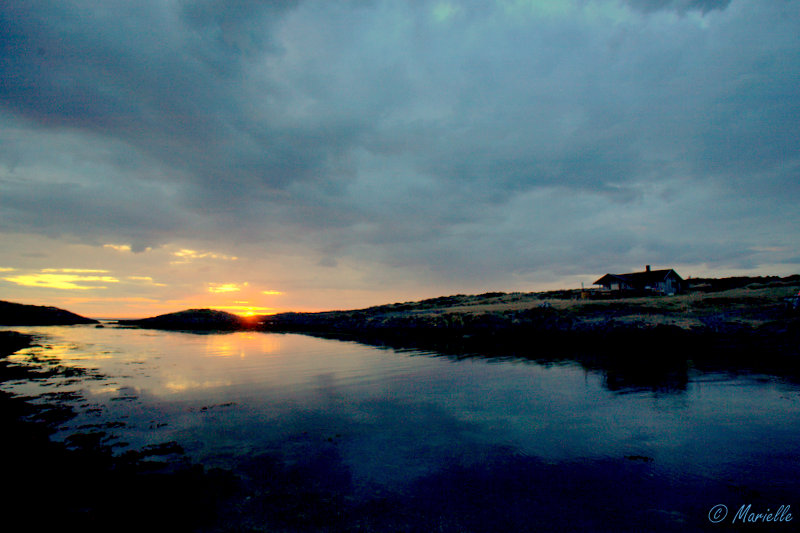 drawing to its end. Fortunately I still have an open invitation to spend time in the cabin of my Norwegian friend. I will probably stay there more often in the coming month. My last month here. In the beginning of July, I will drive the 3.400 km back home. Home?? Yes my home in the Netherlands, but this is also home.
Last week I realised that I am not ready here. A year is not enough. This year turned out to be a year for nourishment, for being more home in myself. A time of transition, literally (menopause) and symbolic. I have not done all the things I want to do. There is still much to learn here, to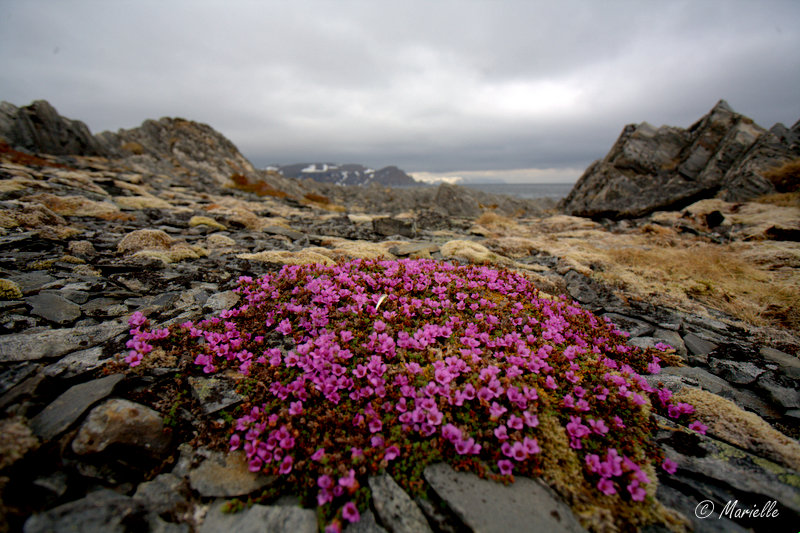 hear, to write about, to make photograph off, to communicate with the earth. So I will be coming back next year. Maybe buy a house here. So I can have two homes, here and in the Netherlands. I have to come back here, for there is a big chance that I will have an exposition with my pictures next year, at the lighthouse. How more appropriate can it be?! As maybe not all of you know, I am a trained photographer. It is just that after my photography studies, I decided to go in a different direction. Now I feel I have made full circle and come back to my first two loves: nature & photography. And my third love is writing. And when I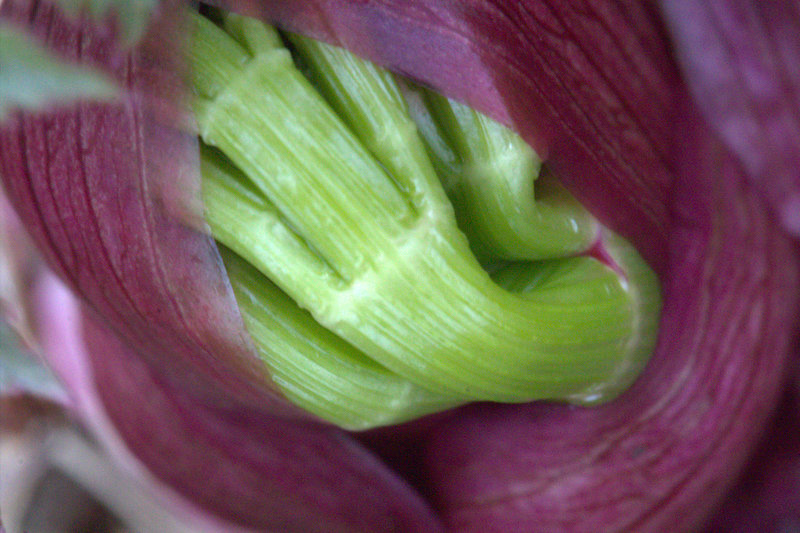 see these words together: nature, photography, writing, it becomes suddenly so clear about what I want with my life: To express my soul through nature, in images and words. And so be an inspiration to others. It feels so strong and powerful. For I know this is truth..... And to confirm this: yesterday I sold my first (from here) photograph ! (the one with the purple flowers)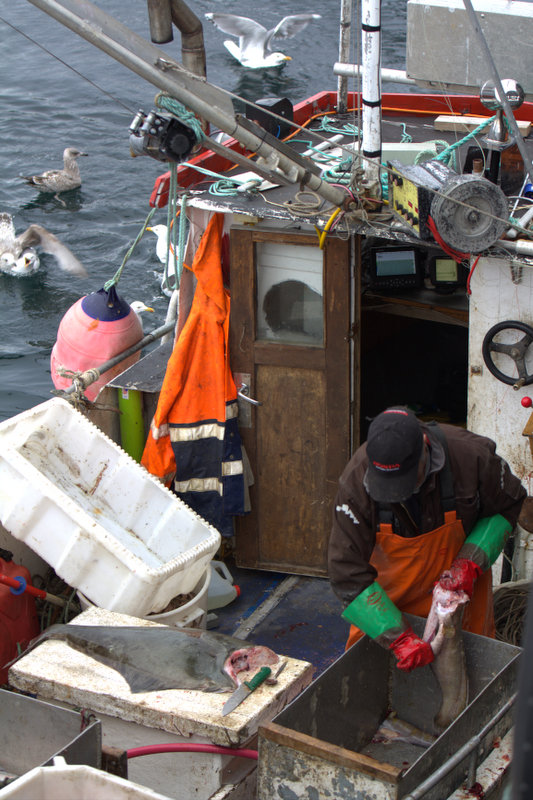 Again, this is not at all what I wanted to write about in this blog. For there is still so much I haven't written about. The food for example, which I have enjoyed immensely. As is clear with the added bulges on my body :-). Nothing tastes better than fish, freshly from the sea or lake and enjoyed in the evening. Or the strange things I have eaten here. Most I liked (rakfisk: fermented fish, love it!), and some not at all (sauhau: sheeps head, brrr.....). I could write, and was planning to, a whole blog about the Norwegian food.
And I wanted to write about 17.mai, the national day here in Norway. So different then our kings day. As festive but with much more depth. On this day, the Norwegians celebrate their first own constitutional law. There is so much pride on that day. People are wearing national dresses and looking wonderful. But there is also much connection, fraternizing. I walked with the Norwegians, some people from Latvia, Thailand, Iceland, in a procession through the village. Waving the Norwegian flag. And I felt not out of place once! Very moving.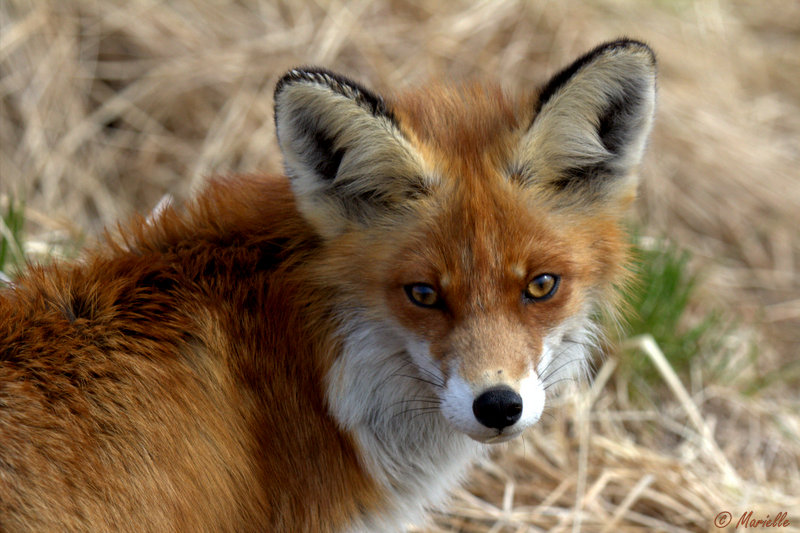 And there is still so much more to write: about my friends here in Gamvik or the lovely French couple I met, who are also travelling for a year in Norway. I haven't written all there is to tell about the nature here, the blossoming of spring, the many animals I have met this month, the rituals I did or the music I made together with the sea and the birds, all the insights I discovered here. And that we already have midnight sun since the 11th of may! Too much to write about in a once a month blog. And yet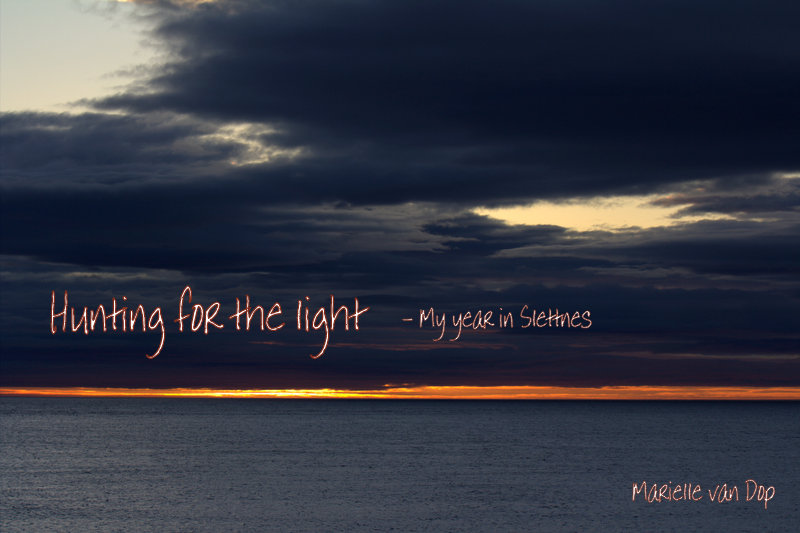 I am happy that I gave myself time and space to BE here. And not succumbe to my inner pressure of having to write more. All there is yet to tell, makes wonderful material for ... a book ??? But first I will make a photography book: 'Hunting for the light, my year at the lighthouse'. Ready before the end of this year. That will make such a lovely Christmas present! (hint hint).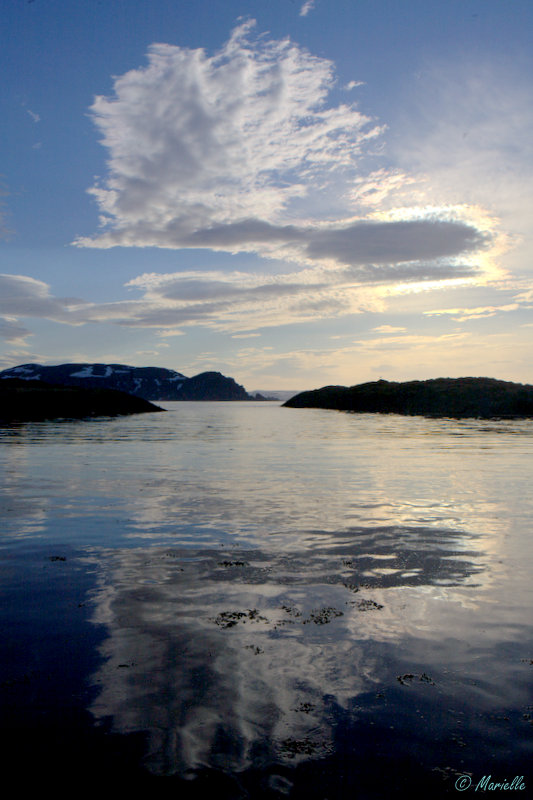 Strange how I always in the days before I actually write my blog, have already written ten blogs in my mind. And my actual blog is never one of them :-) ! I wish for this writing flow to stay with me, even though I will not have this wonderful view of the sea before me. I wish that the view of my lushious, green garden of my Dutch home, will be as inspirational as the sea....... But of course there is still one more blog from the lighthouse to come !
With love from the lighthouse,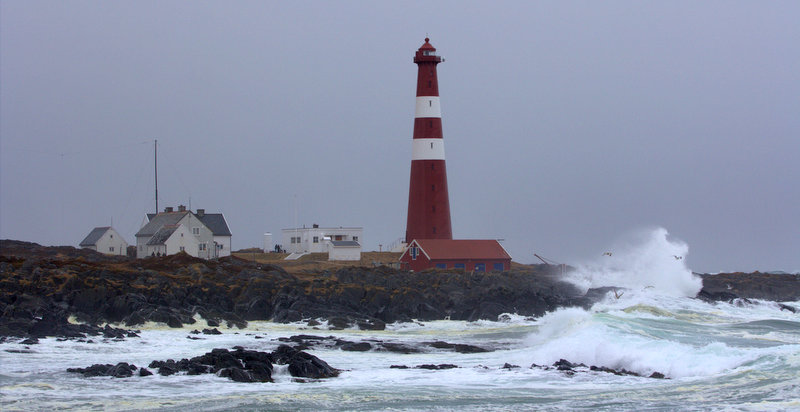 Marielle & Bizou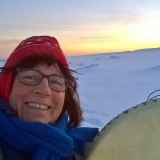 Mijn artikelen →
Marielle van Dop
Diana Grose 2015-05-31 09:47:52
lieve Marielle,
What a wonderful sunday morning surprise, a colourful atmospheric message from the arctic. Through your writing I feel very close to you......I am so glad you have discovered that writing is part of your gift to accompany your nature photos. The herd here are beginning to trample impatiently in anticipation of your return. Meanwhile have a really super month of June.
veel liefs,
diana
Cherda 2015-05-31 09:49:50
Lieve vriendin. Ik heb net ademloos zitten lezen. Midden in mijn drukke leven. Heb samen met jou diep ingeademd. Rook de geur. Hoorde de zee. Dank je wel!!!!!
sophie van er Zee 2015-05-31 12:10:37
De cirkel is rond, Natuur, in en buiten je, je foto's, ook een weerspiegeling van je ziel, net als je taal, je verhalen van wat je ervaart.
Je hebt het vermogen daarmee anderen diep te raken, mij in ieder geval.
Sophie
Patricia 2015-05-31 15:06:46
I love you, and this place you have had the joy of calling home.
Anne 2015-05-31 15:36:57
Lieve Marielle,
Tsja, wat we niet allemaal willen, je schrijft er over en ik herken het gevoel van het willen delen wat opkomt en wat in het hart zo vol is beleefd. Mooi om te lezen en te ervaren. Ik heb weer genoten van je tekst en je prachtige foto's. Ik lees ook tussen de regels door hoe jij en Bizou geweldige maatjes zijn, lieve mooie aarde dame, geniet nog even met volle teugen van de schoonheid van de natuur daar voordat je de grote reis terug gaat maken. Ik verheug me straks je weer in levende lijven te kunnen zien en ervaren, maar ook als je er fysiek niet bent, voel ik me verbonden. Dag lieve buddy heb het goed!
Hanneke Tjassing 2015-05-31 22:41:43
Beste Marielle,
Wij hebben genoten van je verhalen en schitterende foto's.
Bedankt dat je ons mee hebt laten genieten van jou reis.
Goede reis terug en wie weet tot ziens op de tennisbaan.Groeten Hanneke
Andre en Astrid Bijl 2015-06-01 11:34:40
Beste Marielle,
We hebben je vrijdag in Slettnes bij de vuurtoren ontmoet. Wat een enthousiasme ging er van je uit.
We zullen je zeker blijven volgen.
groet, Andre en Astrid
Marja 2015-06-01 13:26:43
Al lezende droom ik weg en probeer me voor te stellen hoe jou jaar is geweest. Wat een mooie foto,s, wat een treffende woorden.
Kan ook ervaren dat je bent gezakt, dat er overgave en vertrouwen aanwezig is in je leven.
Mooi hoor........neem het mee naar huis en laat het Universum je helpen een vorm te zoeken om dit te delen met de wereld om je heen. In Noorwegen zowel als in Nederland. Fijne laatste weken en goede terugreis naar Gorredijk.
swanica 2015-06-01 16:36:37
Lieve Mariëlle wat heb je een prachtig jaar gehad en wat bewonder ik je dat je het avontuur en de reis naar donker en licht bent aangegaan!
groetjes van Swanica
Marijke Siersma 2015-06-01 19:34:42
Dank voor je mooie verhalen en prachtige foto's
Ik kijk uit naar je boek : )
Warme groet marijke
Annet Loos 2015-06-02 11:57:52
Lieve Mariëlle, Ik heb je verhalen vol bewondering gelezen, wat een prachtige, bijzondere ervaring. Regelmatig voelde ik door jou verhalen zelf de avonturen die je hebt mee gemaakt. Je foto's zijn prachtig!
Geniet van je laaste weken en goede reis terug naar Nederland.
Liefs Annet.
frank 2015-06-02 16:10:41
Hei igjen Marielle
Alltid hyggelig og spennende og lese din blogg om dine inntrykk og opplevelser her ved verdens ende. Ikke lenge igjen før du reiser tilbake til Nederland, høres ut for at du har hatt det fint her og ikke minst dine opplevelser med folk og natur som jeg kan tenke du ikke opplever i Nederland. Ønsker deg alt godt og takker for det året jeg ble kjent med deg, du er hjertelig velkommen tilbake til Gamvik, Sletnes, og ikke minst Steinvåg og mitt Paradis.Beste hilsner fra
Frank
Regina 2015-06-02 21:54:46
Beautiful, beautiful pictures!!!!! Melts my heart!